Are you a fitness fanatic? Then you must participate in a Rock Hall, Maryland, triathlon! We're here to provide you with all you need to know about these terrific triathlons. To start planning the ultimate trip to the Chesapeake Bay area, check out a complete list of additional activities and events in our complimentary Vacation Guide!
Annual Triathlons in Rock Hall, Maryland
Each year, the town of Rock Hall, MD hosts two triathlons. The Waterman's Triathlon takes place in September, and the Rock Hall Triathlon takes place in June. Whether you're fulfilling your dream of participating in your first triathlon, or you're a seasoned pro, these incredible events are can't-miss! 
Waterman's Triathlon
Since 2014, athletes have flocked to Rock Hall every September to demonstrate their athletic ability in the Waterman's Triathlon. If you're traveling from Baltimore, it's a perfect activity for a weekend getaway from the city! Participants swim through Chesapeake Bay harbors, which protect athletes from harsh elements and currents. The smoothly paved bike course runs through the town of Rock Hall. The final portion of the race also flows through the quaint, maritime town.  
Rock Hall Triathlon
Year after year, athletes take the trip to Maryland to participate in the Rock Hall Triathlon. The triathlon runs along the edge of the Eastern Shore of Maryland in coastal Kent County, and the swim takes place in Rock Hall Harbor on the Chesapeake Bay. The harbor's landscaping is ideal for the race because it protects athletes from wind and choppy waters. The bike course is scenic and rural, providing wide shoulders throughout most of the course. Athletes will be happy to know that the running course is pancake flat! You'll enjoy running through nautical-themed neighborhoods and side roads of Rock Hall. Be sure to check the official website for specific dates. 
Fun for Everyone
Attending these triathlons are a blast for everyone! There's a live DJ spinning jams and a bounce house for the kiddos. Athletes and their supporters can enjoy the rest of their day by shopping the vendors and getting something to eat. 
Registration Information
Make sure to save your spot to participate in the upcoming Waterman's Triathlon, held every September. The official website will keep you in the know with specific dates and additional info. 
Do you want to go all-in and race on both days? Then you need to take advantage of the "Do the Double" special offer. When you register for the first race, you can register for the second race and save 20%! 
These races are USA Triathlon sanctioned events. The helpful staff is there for you to make sure your race weekend goes smoothly. A few days before the triathlons, registrants receive information regarding bib numbers, the wave start list, and any crucial, last-minute details. 
Rest Up at the Inn at Huntingfield Creek
When you sign up for a Rock Hall triathlon, make a trip out of it and stay at the Inn at Huntingfield Creek. Our elegant inn sits in Maryland in picturesque Rock Hall and is only a 4-minute drive from the starting point of both races: the Rock Hall Landing Marina.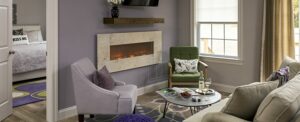 When preparing for a triathlon, you need a peaceful night of sleep. Rest up in a king-size bed in one of our beautiful cottages, such as our Lavender Cottage. Named for its spectacular view of our lavender fields, this serene cottage features a luxury Temper-Pedic bed, soaking tub, and plush spa robes. Before the big race, make sure you fuel up with a well-balanced breakfast. Every morning we serve up fresh, seasonal juice, local fruits and eggs, premium breakfast meats, and more. Browse our available rooms today and book your stay at the Inn at Huntingfield Creek. We can't wait to have you!