Whether you are a beginner fisherman or a seasoned angler, embarking on a charter fishing boat is a fantastic way to get out and experience the Maryland Chesapeake Bay. There's a long list of fishing and boating opportunities on the Eastern Shore, so it can be challenging to select the best one. To make things easier for you, we've outlined our favorite Chesapeake Bay charter fishing outfitters. Please keep reading to learn more about them. 
For more information regarding the area's best restaurants, attractions, events, and things to do, please take a look at our Chesapeake Bay Vacation Guide. It's completely free to use! 
The Best Chesapeake Bay
Fishing Charters
Rock Hall Fishing Charters
Location: 21055 Sharp Street, Rock Hall, MD 21661
Phone: (443)-666-3294
Only a 6-minute drive from Inn at Huntingfield Creek
Rock Hall Fishing Charters is led by Captain Mark Hall, who is a native to the Marland Eastern Shore. He specializes in striped bass fishing, as well as waterfowl hunting along the Chesapeake Bay. Mark, along with his other captains, is licensed by the United States Coast Guard, and have a strong dedication to outdoor adventures and being on the water. When you set sail on a charter boat with them, you'll have an amazing day of fishing on the Chesapeake Bay. 
Bayside Girls Charters
Location: 5655 Walnut Street, Rock Hall, MD 21661
Phone: (410)-639-7507
Only a 9-minute drive from Inn at Huntingfield Creek. 
When you head aboard the charter boat, Bayside Girls, you're sure to catch all the action— and hopefully a lot of rockfish! Bayside Girls Charters, led by local Captain Chuck Clark, provides charter fishing trips during Spring trophy season (April through mid-May) and into December. They will provide you will all of the gear, tackle, bait, and licenses necessary for the ultimate day of sport fishing. 
Blue Crab Chesapeake Sailing Charters
Location: 21055 W Sharp St, Rock Hall, MD 21661
Phone: (410)-708-1803
Only a 6-minute drive from Inn at Huntingfield Creek. 
If fishing isn't your favorite activity, but you still want to have a great time on the water, Blue Crab Chesapeake Sailing Charters is perfect for you. They've been hosting sailing cruises for over 20 years and will give you an award-winning experience that will be the highlight of your trip to the Maryland Eastern Shore. Their most popular attraction is their Sunset Cruise, but they also feature special excursions, such as their Cruise-n-Crabcake, Destination Cruises, and Wedding Cruises. 
Set Sail With Our Adventurer Package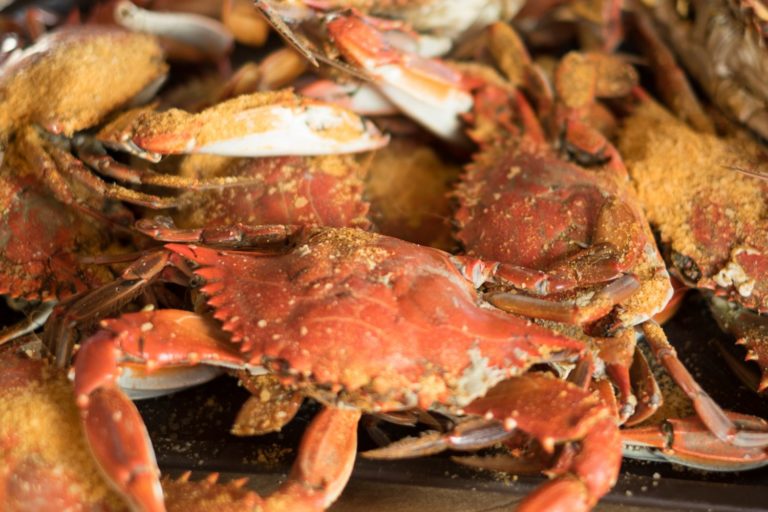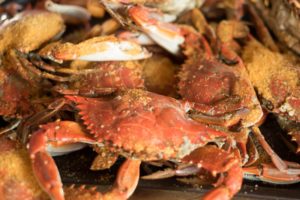 To give you an authentic taste of Rock Hall, we've paired up with Blue Crab Chesapeake Sailing Charters to provide you with a special Adventurer Package. This 90-minute cruise includes a picnic basket lunch, complete with yummy sandwiches, beverages of your choice, fresh fruit, and homemade cookies for you to enjoy aboard to ship. During your trip, take in the views of the gorgeous scenery and wildlife. Then, end the evening with a crab feast for two at Waterman's Crab House. In addition to this Chesapeake Bay charter fishing package, we encourage you to browse our full list of other packages and specials. 
After an exhilarating day on the water and feasting on a delicious meal, rest your head at Inn at Huntingfield Creek in one of our luxurious guest rooms or private cottages. Our serene accommodations and opulent amenities are sure to provide you with comfort and relaxation during your stay in Rock Hall.