Have you ever had the pleasure of sitting down at a table and eating a delicious pile of steamed crabs? A trip to the Maryland Eastern Shore isn't complete without this experience! If you've never eaten this seafood delicacy before, you might be wondering where to start. We're here to help! Keep reading to learn all about how to eat Maryland crabs. 
For more local insight on the best things to see and do throughout the area, download our complimentary Vacation Guide. It's a complete list of our favorite restaurants, outdoor activities, events, and more. 
All About How to Eat Maryland Crabs
What Are Maryland Crabs?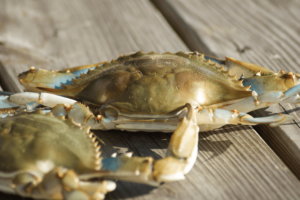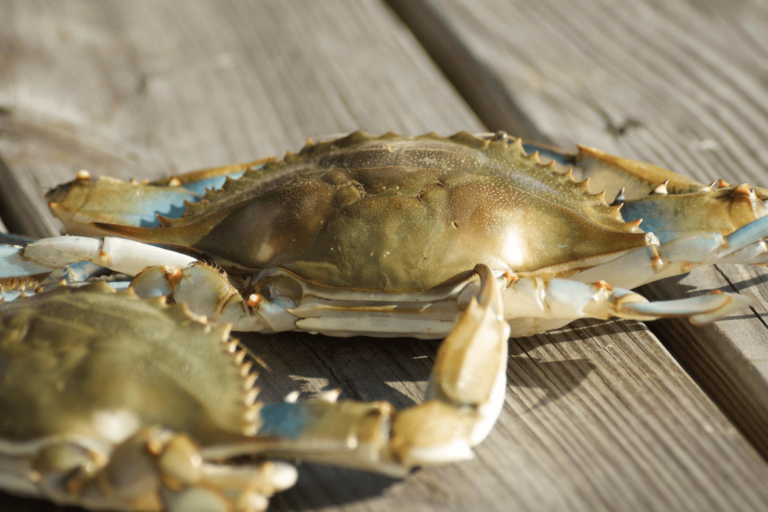 You might be asking yourself, "What makes a crab a Maryland crab?" Good question! Here on the Eastern Shore, our crabs are Maryland blue crabs, and they're caught in the Chesapeake Bay. The meat from these tasty creatures can be used to make crabcakes, crab soup, soft shell crab sandwiches, and more. We're here to show you how to eat or "pick" steamed crabs. 
When you're picking crabs\, it's not just a meal; it's an experience. The crabs are kept whole and steamed and seasoned with seafood seasoning (Old Bay is a favorite). Then you pick through parts of the crab and take out the sweet, juicy crab meat. Before you begin your crab feast, be sure that you have plenty of paper towels on hand— you're going to need them! 
Steps for Eating Maryland Steamed Crabs
The first step of your crab-eating experience is to take off its "apron." This is a flap-like shell that runs along the abdomen. Once the apron is off, dig your thumb into the space under the top shell and pull that off. 
Fun Fact: On female crabs, the apron looks like the United States Capitol building. On male crabs, the apron resembles the Washington Monument. 
Turn the crab over and

remove the gills

and insides. You might also find a yellow, mushy substance during this step. This is often referred to as "mustard." Some people love it; some people aren't fans. Give it a try and decide for yourself! Then, break the crab in half.

Twist off the

legs and claw

s. You might find that pieces of meat come off at the end of the limbs, go ahead and eat that. Then, discard the legs and hold onto the claws. Claw meat is some of the sweetest found in the crab!

Crack the claw in half. Many people find it's easier to use a wooden mallet to do this step. Gently break the claw, bend it in half, and unveil the mouthwatering meat. 

Take each half of your crab and break those pieces in half again. Then, get in all of the nooks and crannies and search for that delectable meat. For extra flavor, rub your crab meat along the back of the shell to pick up that flavorful seasoning. 
Crabbing in Rock Hall, MD
Now that you know how to eat Maryland crabs, why don't you catch some for yourself? There are many places that you can try your hand at crabbing in Rock Hall, MD. The peak season for catching Maryland blue crabs is April through November. Although crab feasts are a cherished summer activity, the largest and heaviest crabs are typically harvested during the fall months. 
Locations for crabbing in Rock Hall, MD:
Stay in the Heart of Rock Hall, MD
If you want to experience warm Chesapeake hospitality, stay at Inn at Huntingfield Creek. We're located near downtown Rock Hall, keeping you close to all of the area's best attractions. We offer luxurious guest rooms in our Manor House, as well as seven fully-furnished private cottages. When you stay with us, you'll enjoy an array of fantastic amenities, including king-sized beds, plush spa robes, panoramic views, access to our inn grounds and saltwater pool, and more. 
It's time to start planning your trip to the Maryland Eastern Shore. Check our availability today!