Plan to Attend These Rock Hall, MD, Events!
The best Rock Hall, MD, events focus on everything from oysters to sailing to anything in between. Plus, there's something going on every season! Browse through our favorite annual happenings and start planning your next adventure to our waterfront town. Make your trip even better when you download our complimentary Vacation Guide. It not only provides you with more annual festivals, but also the best restaurants, breweries, wineries, and excursions in the area. Your getaway begins here!
RiverArts Paint the Town
Regional artists paint the local scenery before your very eyes at RiverArts Paint the Town, which is a four-day event. Make sure to watch the "Quick Draw," where artists have two hours to make a masterpiece that the public nominates for the "People's Choice Award." Of course, all creations are for sale at the RiverArts Gallery.
Rock Hall Bikefest
Marvel over the 1,500 motorcycles that come to visit Main Street in Rock Hall, MD, for Rock Hall Bikefest. With only a $5 admission fee, you'll enjoy live music, contests, food vendors, and more! All proceeds benefit the Rock Hall Volunteer Fire Co.
Chestertown Tea Party
History buffs will love the Chestertown Tea Party, which is a two-day event honoring the history of Kent County. Enjoy a colonial parade, clogging performance, and a colonial improv show to transport you back in time!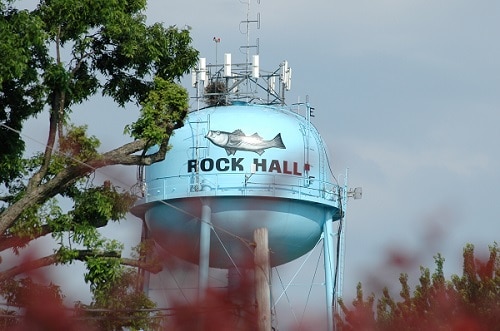 Pro-Am Rockfish Tournament
Much of the history of Rock Hall includes Maryland's watermen. The Pro-Am RockFish Tournament is an event in honor of their decades of work in the seafood industry which has allowed Kent County to thrive. Dock your boat at a Rock Hall marina and enter this wonderful competition.
Rock Hall Fourth of July
If you're looking for Rock Hall fireworks, this is the event for you. On July 3rd, gather around for the best fireworks in the Chesapeake Bay. The following day, check out Main Street in Rock Hall, MD, to celebrate our nation's independence by viewing the parade of hand-crafted floats and a marching band traveling through town.
Rock Hall Pirates and Wenches Weekend
One of the most anticipated events of the summer is the Rock Hall Pirates and Wenches Weekend. Put on your best pirate outfit and make your way to Rock Hall Beach for the Carribean-style beach party filled with fantastic food and fun! Or, visit Main Street in Rock Hall to dine at participating restaurants, embark on a town-wide treasure hunt, enter the costume contest, and listen in on the "Talk Like a Pirate Contest." This is a three-day event you'll definitely want to attend.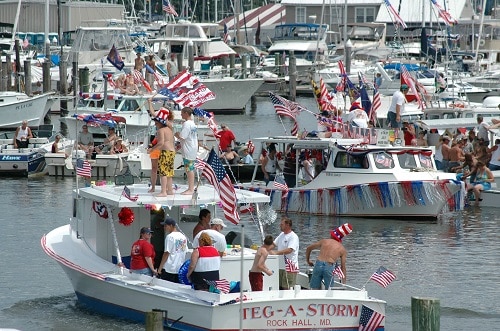 Rock Hall Fall Fest
This free festival is held at The Mainstay, located on Main Street in Rock Hall, MD. You'll experience even more food and fun here, provided in the form of endless oysters, live music, and 35 craft booths. This is the best way to celebrate fall and feel like you're part of the community.
Sultana Downrigging Weekend
Sail across the Chesapeake Bay on an antique ship during Sultana Downrigging Weekend. Tour a ship deck, learn more about its history, and enjoy a peaceful ride across glassy waters during this four-day event.
Waterfowl Festival
The Waterfowl Festival takes place throughout Kent County. Enjoy art, local wine and beer tastings, toe-tapping music, and interactive exhibits to fill your time while learning about the culture of the area. Visit this four-day event filled with activities that run between 10:00 a.m. - 7:30 p.m.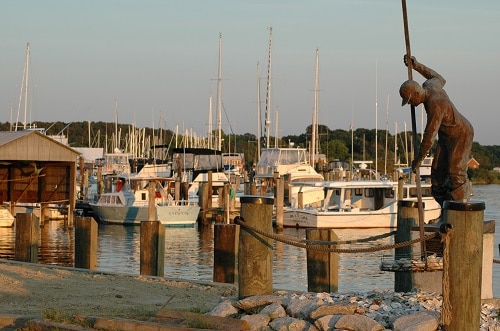 Rock Hall Christmas Market & Santa Parade
Rock Hall New Year's & Hat Parade
We have a unique way of celebrating the New Year in Rock Hall, MD. Join in on our hat contest, where you can win titles for categories like, "Fishiest Hat," "Most Patriotic Hat," "Best Rock Hall-esque Hat," and many more! Make sure you bring your best cap if you're taking a winter getaway during this festival.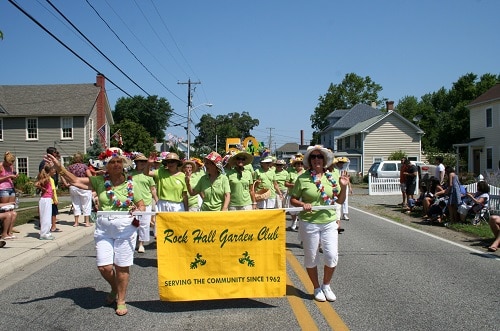 Stay with Us and Attend an Event
Now that you've chosen which Rock Hall, MD events you want to attend, you need the perfect place to stay. To experience luxurious accommodations, a full country breakfast each morning, and beautiful onsite amenities like a saltwater pool, join us at Inn at Huntingfield Creek for the best trip to our lovely town. Consider staying in the Garden Cottage for the best views of our lovely greenery.
We look forward to hosting you soon!