When you're looking for the perfect bed and breakfast in MD, look no further than Inn at Huntingfield Creek. Our Eastern Shore retreat embodies a zen atmosphere, warm Chesapeake hospitality, a variety of lodging options, a plethora of activities, and the opportunity to turn everything off and reconnect with someone you love. To learn more about why you should stay with Inn at Huntingfield Creek—read on!
If you want access to the ultimate vacation planning tool, request a copy of our complimentary Vacation Guide. It includes local insight regarding the area's best restaurants, attractions, events, and more. 
The Top 10 Reasons to Stay With Inn at Huntingfield Creek
 1.
Delicious Breakfasts Made Fresh Daily Just For You
When you stay at Inn at Huntingfield Creek, you can start every day off on the right foot with a homemade complimentary breakfast. Breakfast is served daily at 8:30 A.M. in the Main House and includes fresh-squeezed juice, local fruit, farm fresh eggs, premium breakfast meats, and a delectable sweet treat. If you have a gluten intolerance or other allergies, let us know, and we'd be happy to accommodate you in any way that we can! 
2. Ability to Book Direct
When you're searching for the perfect bed and breakfast in MD, don't pay unnecessary fees by booking with a third-party site. When you book direct with Inn at Huntingfield Creek, you'll receive the lowest price possible and have access to exclusive specials, packages, and discounts.
3. Access to Our Picturesque Inn Grounds
The grounds at our inn cover 70 acres and embody the beauty of the Maryland Eastern Shore. You can take a morning stroll through the gardens, walk down to the dock and watch for our resident heron, eagles or ospreys, gaze at stunning marsh views, or take a dip on our sparkling saltwater pool. We offer comfortable resort-style lounge chairs and plush, oversized towels. 
4. Exclusive Packages and Specials
It's our mission that during your stay you embrace the Chesapeake Bay area and save money while doing it, so we're happy to offer a variety of vacation packages and specials. We offer seasonal specials, last-minute travel deals, add-ons, and packages. To stay up to date with our current offerings, check our Specials and Packages page. 
5. We're Pet-Friendly
We know that it's hard to leave your dog behind, and we consider our four-legged friends to be part of the family here. Our innkeeper assistant dogs Java, Maggie, Bayla, and Rosie, are always happy to say hello to you and show you around the property. If you want to bring your pup along with you to our bed and breakfast in MD, we're pleased to provide pet-friendly private cottages. 
6. Our In-House
Guest Rooms
Within our Main House, we offer five charming, upscale rooms with individual themes and decorations. The beds provide ultimate comfort with lightweight Swiss-style down duvets and bedding. 
7. Activities Await at the Inn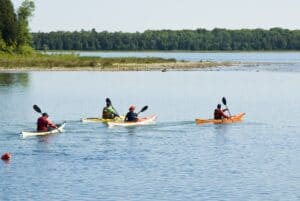 One of the best parts of staying at Inn at Huntingfield Creek is that you don't have to leave the property to explore the Maryland Eastern Shore. Throughout our estate, you can enjoy birding watching, walking trails, kayaking, and a romantic rope swing. 
8. Proximity to the Heart of Rock Hall
Our inn is located in the coastal town of Rock Hall, and we're located minutes away from the heart of it. When you stroll the streets of Rock Hall, you'll fall in love with unique shops, delicious restaurants, the art and history, and the breeze right off the bay.  
9. Stay in a Private Cottage
If you want to experience pure solitude and relaxation, stay in one of our seven luxurious, fully-furnished private cottages. Each cottage is unique with its own mildly themed decor and encompasses the epitome of Chesapeake hospitality. You'll enjoy the opulent amenities found in your cottage, including spacious living areas, bistro kitchens, cozy fireplaces, pristine bathrooms, plush bedding, outdoor sitting areas with scenic views, and more! 
10. Our Reviews are Raving
It warms our hearts to hear kind words from our guests. It's a lovely reminder of why we do what we do. One of our recent reviews came from Karen L. and read, "Love this place! We really needed some peace and quiet and this place was perfect! We were also here to celebrate Valentine's Day and a birthday. The owners and manager were all so accommodating and wonderful!"
Plan Your Stay at Our Bed and Breakfast in MD
If you're ready to start planning your getaway to the Maryland Eastern Shore and stay at Inn at Huntingfield Creek, check our availability and find the perfect accommodation for you. We can't wait to host you!