Here at Inn at Huntingfield Creek, we're lucky to live in an area where we frequently experience breathtaking sunsets. During your stay with us, you should make it your mission to sit back, relax, and take in the natural beauty of the closing of the day. We'll tell you about our favorite locations to watch the best sunsets on the Maryland Eastern Shore.  
Let's get excited about your upcoming stay at the Eastern Shore of MD. Take a look at our free Vacation Guide to learn about the best restaurants, attractions, and events in the area.  
Get Our Free Area Vacation Guide 
Where 
To
 Watch the 
Best Sunsets on the Maryland Eastern Shore
Chesapeake 
Bay Bridge
Whether you're on your way towards the shore or you're returning home after your stay at Inn at Huntingfield Creek, you can see gorgeous sunsets and sunrises as you're cruising over the Chesapeake Bay Bridge. The impressive structure is over four miles long, so you have plenty of time to take in the views during your drive over.  
Private Dock at Inn at 
Huntingfield
 Creek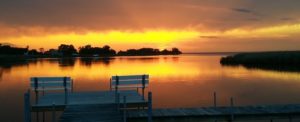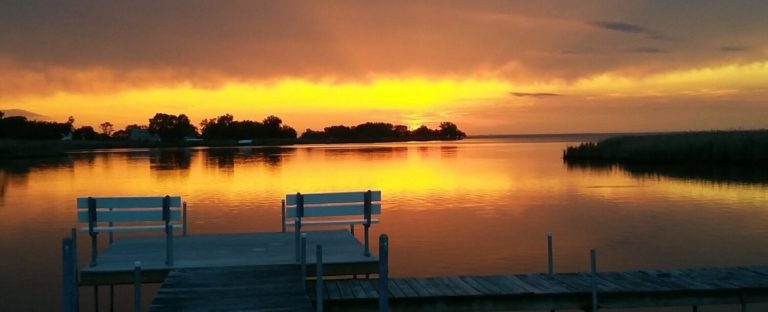 When it comes to the best spot to watch the sunset in Rock Hall, you don't even have to leave our inn grounds! When you stay with us, you'll have access to over 70 acres of pristine land, including walking trails, stunning gardens, a serene pond, and a private creek with a multi-direction dock. This is the perfect spot to enjoy a glass of wine and watch the sunset over the Chesapeake Bay. This is also a popular backdrop for wedding photos and intimate ceremonies.  
Rock Hall Beach
Another one of our favorite sunset viewing locations is Rock Hall Beach, which is only about three miles away from our bed and breakfast retreat. This charming beach, locally known as Ferry Park, features covered pavilions, picnic tables, a grill, and tranquil waters. This park used to serve as a ferry landing before the Chesapeake Bay Bridge was built. Today, it provides out of this world views of dazzling sunsets and Baltimore's sparkling lights on the opposite side of the Bay. 
Eastern Neck Wildlife Refuge


With over 2000 acres and seven trails winding through natural habitats, the Eastern Neck Wildlife Refuge is hands-down one of the most beautiful places to explore in Kent County. Do you want to know our favorite secret spot for sunset photos on the Eastern Shore of MD? A trail called the Bayview-Butterfly Trail leads you to a wooden bridge and deck that overlooks the Chesapeake Bay. Here you'll find benches, binocular viewers, and maybe even some Tundra swans!  
Stay at Our Picturesque Inn

Are you ready to plan your stay at Inn at Huntingfield Creek? Our bed and breakfast retreat provides the best accommodations in Rock Hall. We offer private cottages that are fully equipped with kitchens, living rooms, cozy bedrooms, and outdoor sitting areas. We're proud of our top-notch amenities, such as homemade breakfast, complimentary toiletries, and access to bicycle and kayak rentals.  
Check our availability and book your unforgettable stay at the Maryland Eastern Shore today!