Our waterfront town of Rock Hall is located in the heart of the Maryland Eastern Shore. When you embark on a getaway to our own, "The Pearl of the Chesapeake," you'll be surrounded by breathtaking bay views, scenic parks and beaches, a historic downtown area, and many fantastic restaurants. If you're looking for the best romantic restaurants on the MD Eastern Shore to enjoy with your loved one, we've got you covered!  
To learn more about the area, download our complimentary Vacation Guide. You'll learn about all the best outdoor activities, attractions, and events to explore when you stay with us in Rock Hall.  
Chesapeake Bay Area Vacation Guide 
Dine at These 
Romantic Restaurants on the MD Eastern Shore
Everyone has their own definition of what they think is romantic. Whether you're seeking a fine dining experience or a quirky small-town restaurant, there's plenty of ways to enjoy romantic dining near Rock Hall, MD.  
Location: 20786 Rock Hall Ave, Rock Hall, MD 21661 
This upscale, waterfront restaurant has a reputation for offering the most romantic dining experience in Kent County. They take pride in having a fresh seasonal menu, high-quality ingredients, and a top-notch chef that puts care and detail into preparing every meal. Osprey Point specializes in American cuisine paired with a selection of fine wines, homemade desserts, and exceptional views.  
Must-Try Dish: The crab cake and soft-shell crab dinner both include lemon-Old Bay aioli, rice pilaf, and southwestern skillet corn. 
Location: 21270 Rock Hall Ave, Rock Hall, MD 21661 
This cozy, rustic tavern serves up delicious Eastern Shore-style seafood, in addition to Australian specialties. Every one of their dishes is made fresh to order and only consists of the highest-quality ingredients. Bay Wolf is also praised for their All-You-Can-Eat-Oyster special, which is offered on Wednesday evenings from September through April.  
Must-Try Dish: Wiener schnitzel, sometimes spelled Wienerschnitzel, is a type of schnitzel made of a thin, breaded, pan-fried veal cutlet. 
Location: 21055 W Sharp St, Rock Hall, MD 21661 
This eatery is a favorite spot amongst locals and is known for its fresh Maryland seafood, including steamed blue crabs, rockfish, oysters, and more. Waterman's offers indoor dining and relaxed dockside seating, which is one of the best spots to enjoy a romantic sunset.  
Must-Try Dish: The famous Crab Feast includes Maryland steamed crabs, coleslaw, and corn on the cob.  
Location: 20895 Bayside Ave, Rock Hall, MD 21661 
This upbeat bar and grill features seafood and American fare, live music, patio seating, a gift shop, and lovely marina views. If you're in the mood for a more casual date night, this is the perfect location for you.  
Must-Try Dish: The award-winning Harbor Burger consists of half a pound of fresh Angus beef cooked the way you like it, served with tomato, lettuce, and pickles on a toasted Kaiser roll.  
Stay at Our Romantic Bed and Breakfast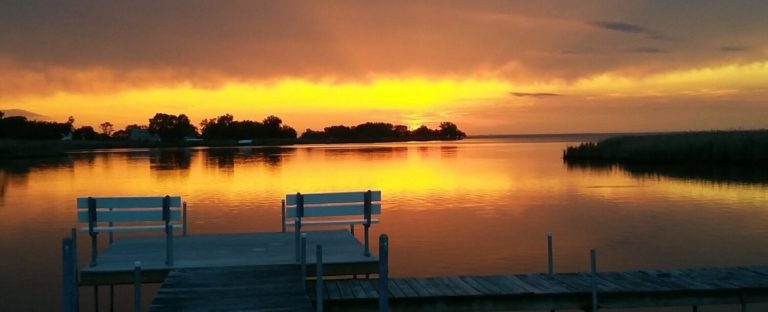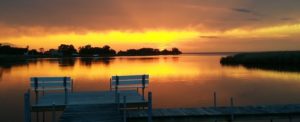 When you're looking for romantic accommodations on the Maryland Eastern Shore, look no further than Inn at Huntingfield Creek. You and your sweetheart can stay in a private cottage that has everything you need to feel at home. Plus, you'll have unlimited access to our excellent onsite amenities, such as kayak and bicycle rentals, homemade breakfasts, our sparkling saltwater pool, and more. Plus, we're located close to downtown Rock Hall, keeping you near all the best things to see and do in the area.